UPDATE: Life is hard. Not my life. I just eat food and then tell you why I like it. That's pretty easy. Kind of an ideal situation, really.
But in the very easy, pleasurable, laid-back life I enjoy, occasionally I make sacrifices, like not eating at the same place very often. Case in point: UR/BUN.
This delicious bun shop was one of my first reviews and I haven't been able to visit much since. You know, because I already reviewed it and I have to keep eating other places to review them, too.
BUT! When menus change, restaurants know to shine a light into the night sky with a silhouette of a very large, sweating man. That's the Greg signal. It brings me running. Walking. OK, I ride a Rascal Mobility Scooter with oxygen tanks strapped to the side.
Recently departed (to Tulsa, not the afterlife) chef Vuong Nguyen helped expand the menu at UR/BUN to include delicious rice bowls.
Why put more on the menu? Because sometimes people just want something different. Even though pillowy soft, slightly tacky buns filled with luscious meats are always awesome, they're not the most filling.
Using just a few added ingredients, UR/BUN has fixed that issue. The rice bowls are big. Satisfyingly large. Normal people will have leftovers. What's that even like?
In addition to a nice bed of soft, sticky rice, you get about three times as much meat as you would in a bun as well as pickled vegetables and a hard-boiled egg.
I got the pork bowl ($7.99), but there are also crab ($10.99), duck ($8.99) and other versions.
---
Woe be unto the gluten-intolerant people going to UR/BUN, because it's a gluten lover's paradise. Those buns are literally super glutinous. That's what gives them that signature texture — a slightly sticky pull that feels a bit like eating raw dough. But let's back up. Way back. To a business that the owner of UR/BUN credits with bringing buns/bao to popularity in Oklahoma City. "I've got to throw props to Kaiteki Ramen," said Daniel Chae.
Kaiteki (formerly co-owned by Jeff Chanchaleune, who now owns Goro Ramen) put high-end ramen and pork belly bao into the local lexicon. They asked the question Chae has long been pondering: "How do we make Asian food cool?" As owner of All About Cha and popular Korean-fusion restaurant Chae, Daniel Chae is doing a pretty good job of making Asian food cool himself. At each turn, the humble entrepreneur throws credit to his staff.
And UR/BUN is tiny. At about 980 square feet, it's compact in the extreme, but that doesn't seem to slow down the steady flow of visitors. Open only a few months, it quickly established itself as one of Uptown 23rd Street's bright culinary lights. That's high praise, but also a lot of competition, said Chae. Starting with Big Truck Tacos, the district began attracting several excellent eateries. Now everyone is just fighting to keep a sliver of the OKC dining pie. UR/BUN's menu is small. Not quite as miniscule as Tucker's Onion Burgers, but close. You can order buns, fries and desserts. That's it. But keeping the menu small and focused means the staff are dedicated to making each bun perfect. The best of the bunch, in my opinion, is the pork belly ($3.45) with housemade gochujang sauce, pickled onion and scallion. The meat mimics the bun in that you get a bit of chew followed by tender, melting, delicious flavor.
The fried chicken ($3.45) is made with chicken thighs and includes the tart burst of Tabasco heat and a tangy bleu cheese sauce. Eating only one is not an option. I am always a fan of duck ($3.45) and UR/BUN's is no exception. The sandwich includes pan-seared duck breast, crispy duck skin and the sweet-savory blend of hoisin sauce. I was not blown away by the tofu ($3.50), but I rarely get into. The real flavor of this comes not from the fried tofu, which has a crispy texture, but from pickled onion and the corn and leek sauce. It's great if you're a vegetarian, but I'll save my stomach space for the pork belly. Chef Snow's favorite is the tonkatsu ($3.50), which is pounded pork loin, breaded in panko and fried. The crispy meat is topped with barbecue sauce, apple and red cabbage slaw. It's got some favorable similarities to German schnitzel. Keep your eye on the specials, though. Snow gets to play around and make some really fun, tasty dishes. The cheeseburger bun was unexpected but delicious. Each tiny beef slider is covered in gouda and Porter peach jam. I loved it and I can't wait to see what he has planned next.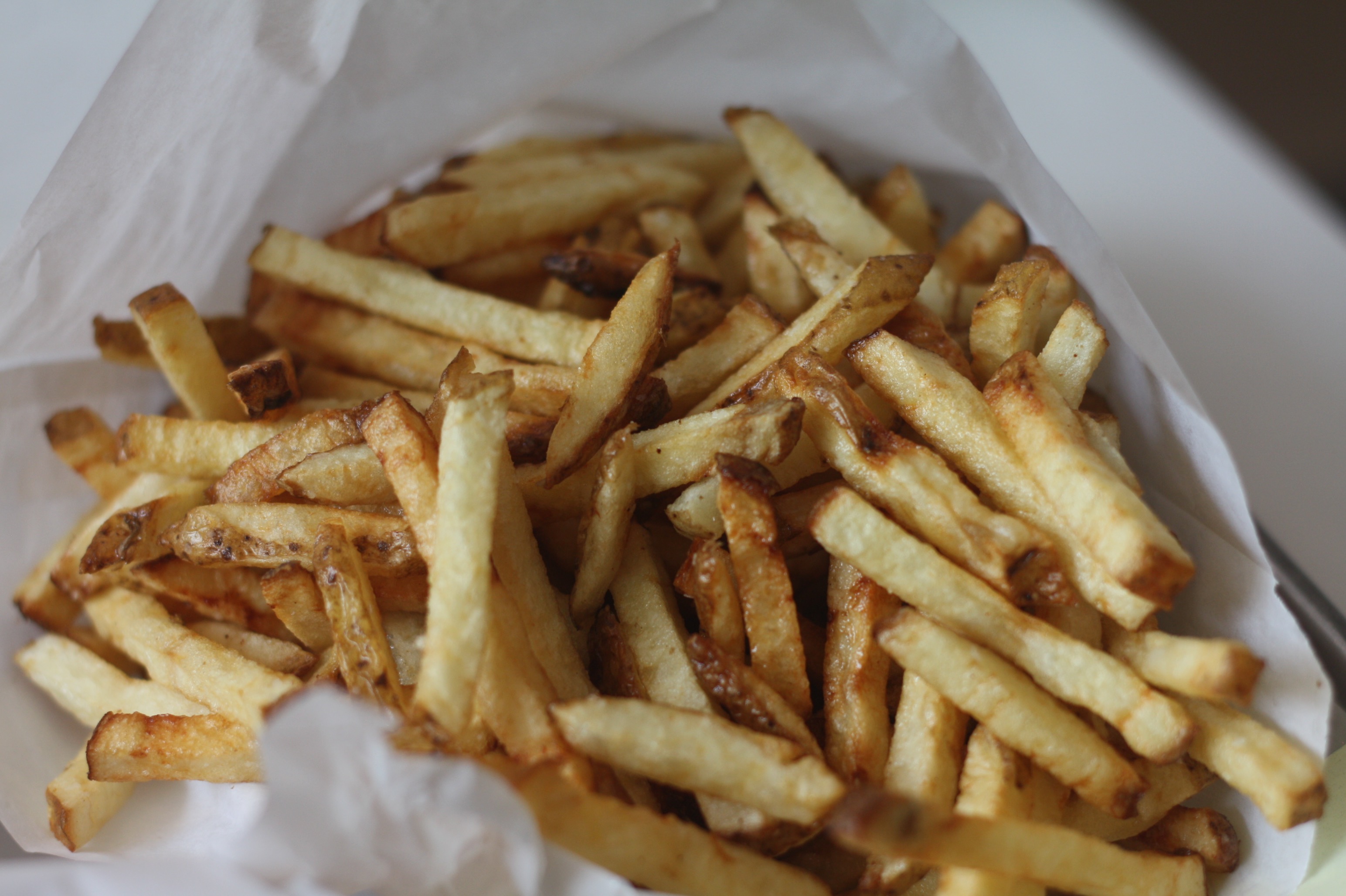 The french fries ($2.15) are legitimately some of the best in the city. Chae said he apologizes to anybody who came in when they were still trying to work out the formula, but they've definitely cracked it now. Using a hybrid of an Idaho and a russet potato called a Chipperbec the restaurant now makes fries that are crispy outside, fluffy inside and provide that great potato taste we all crave. But don't sleep on the veggie fries ($3.45), made with sweet potato and baby carrots. Real baby carrots. Not those smooth little ovals you get in the grocery store. When these are fried, they have a subtle sweetness that is intoxicating.
For dessert the restaurant often has soft serve, which they make themselves, but even when the machine is being serviced, you can get the cinna-bun stix ($3). These are bun, cut up and fried and then dusted with cinnamon and sugar. It's not an overpowering sweetness, but a light and crispy end to a sumptuous meal. Have you been to UR/BUN? What did you think? What did you think the restaurant was called? Let me know in the comments and, please, share this on social media. :)