SPONSORED POST
When Sara Cowan approached me about writing a sponsored post for Deluxe Winter Market, I said, "Yes." I didn't think about it at all. I need money, like so many people do, in order to pay bills and child support and buy fancy artisan-made soaps to eat.
"Greg," said Sara, her disdain for me as clear as day, "People aren't supposed to eat soap."
Oh. Riiiiight. I'm just going to let "The Man" tell me what I can and cannot eat? Nice try, Sara. When did you become part of the establishment?
Relenting to my iron-clad logic, Sara pointed out that several vendors at Deluxe Winter Market sell soap and other bath and body products. So if I was going to eat inedible cleaning products, I could probably try some of the good stuff.
WHAT IS DELUXE WINTER MARKET, YOU ASK? LET ME TELL YOU!
Since 2008, Deluxe Winter Market has been an annual home to crafters, makers, creatives and people who smell really, really nice. Like really nice.
This year's show is 11 a.m.-5 p.m. Nov. 25 at Leadership Square, 211 N. Robinson Ave. in trendy, hip and happening Downtown Oklahoma City.
Cowan founded the event with her friend and spiritual advisor Jennifer "J.D." "The Real" "Bones" McCoy as a way to help their fellow crafters connect with local shoppers. The combination of talented artists and people looking for truly unique gifts turned out to be a smashing success.
It's free and open to the public, but there is an incentive to arrive early — the first 50 shoppers get a free goodie bag that is certified good by Santa Claus himself.
I have personally volunteered at a Deluxe Winter Market and bought one of my favorite paintings there. I would probably have written this for Sara for free, but when someone offers you $11 you don't turn it down.
Inspired by a childhood rash, much like the new CBS hit "Young Sheldon," Pearl's Wisdom Soap is a company that does things naturally. The soaps are 99 percent natural and contain lots of things I already enjoy eating — olive oil, mango butter, coconut oil, fragrance — but the proof is in the tasting.
Scandal (not based on the ABC hit "Scandal") is extremely fruity, like slipping on a wet floor in the produce department and falling nose first into a bin of ripe strawberries and melons. Sadly, the comparison ends there. While the scent wafted in and out of my nose, the flavor was underwhelming at best.
The texture was stiff and a bit waxy. How are you supposed to eat this stuff, Pearl? For all the effort, I might as well have just moistened the bar and gently rubbed it on my skin in the middle of a hot shower.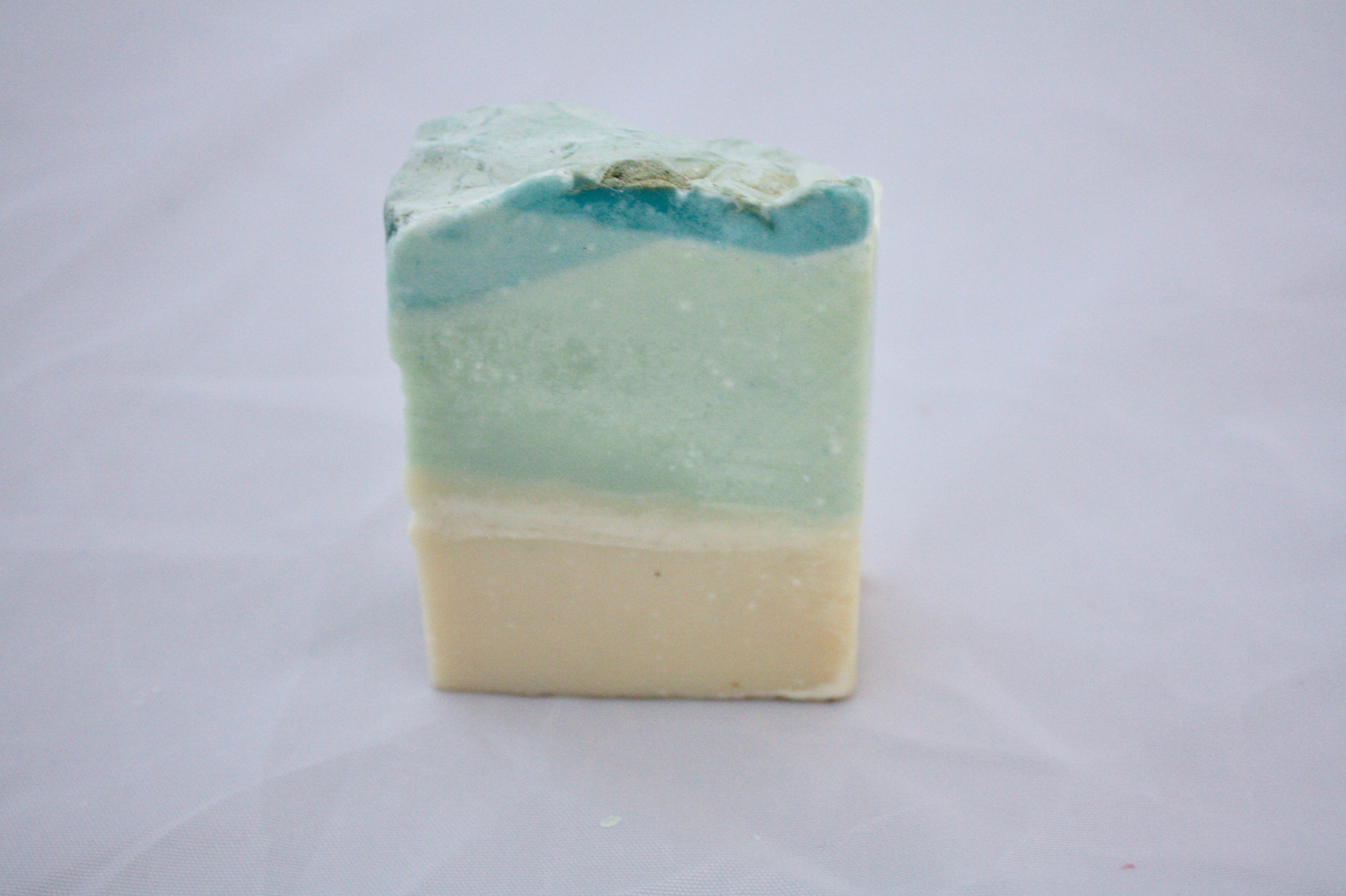 Intuition (possibly based on Spider-Man's "Spidey sense") is a little less direct in its fragrance. There's a hint of sandalwood that gives it a more manly odor. Now, while the flavor was better than the times I've eaten sandals or wood, this soap also failed to impress my palate. If anything, it gave off a weird, soapy flavor. It was also very chewy.
For washing off your filthy, filthy bodies, these soaps are great. As food...they need work.
Started at age nine by the clearly-destined-to-rule-the-world Bella Corrente, The Little Bubble is a soap and scent company that doesn't take itself too seriously. CEO Bella, now 13, has a knack for unique names that capture the imagination.
Unicorn Farts is the must-try soap of The Little Bubble lineup. Though it looks like a rainbow, the soap itself has a candy-like fruity scent that, sadly, doesn't translate to the taste. The product description boasts a "hint of vanilla," which is clear when you get it wet and rub it on your body, but not so much when you eat it with a knife and fork.
The body glitter in the soap adds a nice texture and mouthfeel, but it led to a somewhat shocking bathroom visit the next day.
Butter Beer did not get me drunk, no matter how much I ate. Considering Bella is well below the legal drinking age, that makes a certain amount of sense, but a man can dream. I accidentally got some on my hands and when I washed it off, I felt smooth and beautiful and I wept, silently, for I truly knew love. Kind of chewy, though.
Check Out Those Melons Bath Bomb was a welcome relief after eating all that soap. Now I could just drink it! After dissolving the bomb in a pitcher of warm water, I enjoyed the musky scent of melon fruit. Sadly, it was not a great taste and I ended up dumping the rest of it in the bathtub where I was enjoying an evening scrub down. My skin felt silky smooth and taut, like a human bongo drum.
Made in Moore, Oklahoma by McKenna Howard, The Wild Sprout products are aimed at helping those with skin sensitivities by using natural ingredients that soothe the skin and delight the senses.
Java Body Scrub and Polish is made with organic ground coffee beans and pure cane sugar, so of course I smeared it on toast to enjoy during a morning shower. (If you're not eating toast in the shower, well, good. I don't know why I started and it's never worked particularly well for me.)
The scrub was a bit gritty, which played hell with my teeth, but the jolt of caffeine certainly helped wake me up.
Some of the Java Body Scrub and Polish got on my chest and when I tried to brush it off I ended up rubbing it into my shoulders and pectorals. After rinsing, my skin felt velvety smooth and luxurious, like one of those fancy skin transplants people get in Hollywood.
I enjoy all sorts of handmade foods, so I was eager to taste LuX Body Shop's handmade soaps. They're debuting new lines of male-focused products, and since I'm a male, it feels pretty great that someone is finally paying attention to my needs. It's about time!
Blue Ocean is, by far, the bluest of the soaps I've eaten, but not the bluest smelling. It reminds me of laundry detergent in that really clean-smelling way. But it also tastes kind of like laundry detergent, in that it is actually soap.
Pumpkin Spice is perfect for basic bros like me. The sweet nutmeg smell is quite soothing and the swirl pattern is very pretty. Is it soap or a work of art? Why not both?
Sadly, the resemblance to PSLs ended there, because when I started chewing on this one, it definitely came across more soapy than anything else. The glitter adds some nice texture, though.
The Detroiter Beard Balm is part of LuX's new men's line that softens the beard while making it smell good enough to eat. So I got a spoon and had a few bites. The texture is very smooth — like solid butter — possibly because it contains shea butter.
Does it taste as good as gelato? No. But as someone who has rubbed plenty of gelato in his beard, The Detroiter is much better at softening facial hair and attracts fewer bees.
Conclusion
Sara Cowan recently got in touch via electronic mail to once again man-splain to me that soap should not be ingested and that, if I were interested in foodstuffs at Deluxe, I should have asked.
"This year Old School Bagel Cafe inside Leadership Square is staying open during Deluxe, which is a first for us," she said. "People can get bagels, sandwiches, chips and drinks with Old School."
Parked outside Leadership Square will be a trio of food trucks, including DoughMG (seller of delicious, edible cookie dough), Bacon N' Cakin' (creator of the Ultimate Pancake Sandwich and bacon-infused beef sliders) and The Saucee Sicilian (one of my favorite pizza purveyors in the entire state of Oklahoma, read the review here).
Oh, and for anyone who wants edible gifts for purchase, Sweet Prairie Home will be selling some of their tremendously rich and enticing fudge.
"I literally told you not to eat the soap," Sara literally said. "Are you going to be okay?"
Yeah, I'm okay. I'm okay with $11. Which I'll probably end up spending at Deluxe.